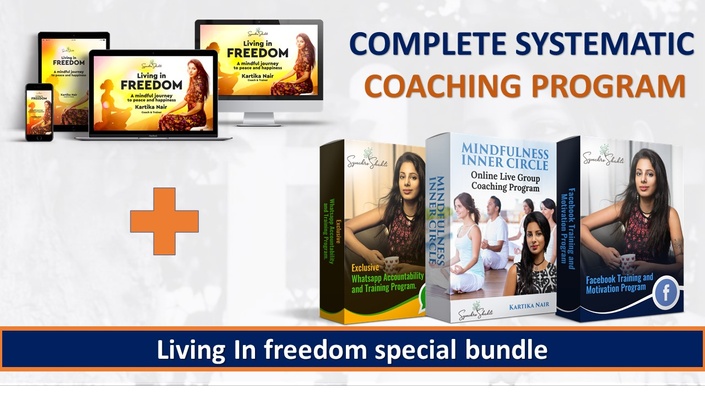 Living In Freedom FULL Bundle Includes Telegram, Group Coaching & Facebook Group
Your Mindfulness Journey To Living In Peace & Happiness
Enroll in Course

For international students from outside India, please use the link options below :)
Please note that this is a 6 weeks deep training that has yielded incredible result for hundreds of students.This course is not for those dabbling, but only for those who are serious and willing to stick to the program and follow it to the tee.
Refund is available on the clause that you take 1 year to seriously apply the material diligently and if no results are found, only then a refund is issued.

Who is this course for?
This course is for those who want a easy to follow step by step program to help them:
Dissolve negative thoughts of the past or future.
Dissolve deep and negative emotions
Be untouched by life's situations
Live in the peace and power of the present moment
Use their mind instead of the mind using them.
If you said yes to one or more of the above mentioned points, then read on...
_______________________________________________________________________
What You Will Learn Here In 6 weeks!

Week 1: Understanding mindfulness
In the easiest way possible, you are taught what exactly is mindfulness, why it is a natural ability, how and why to practice non judgement, and non resistance. How to create solutions in life instead of pain and suffering. How to create peace in the present moment, and how to come back to the present moment if your mind has taken you away into powerless past-future thinking.

Week 2: Dissolving negative thoughts
Through breath focus and an exercise I call "Tagging thoughts" you learn how to disarm and dissolve a negative thought as soon as it arises. You can also use this method to dissolve thoughts and distractions that take you away from the peace of life and the present moment.

Week 3: Dissolving negative emotions
Through the knowledge of something we call the "Pain body" and a practice called "Dissolving the pain body", one learns how to witness and release current pain, negative emotions, negative reactions, past traumas, fears and limiting beliefs from one's life for good.

Week 4: Rooting in the body
Through a practice known as body awareness or Yoga nidra, one is guided deep into the body to experience profound states of rooting and relaxation, which although is beneficial at the surface level, it also has prolonged positive effects on the brain and levels of calm in the future.

Week 5: Body Healing
Through a process of accessing the subtle life force energy or vibration moving through the body, our students are able to root themselves strongly in their own energy so no storm can uproot them. This builds strength to deal with life very calmly. It really is magical. This feeling of life force energy, is like flooding the body cells with conscious energy which releases trapped negative energy and heals the body as well, like an energy bath.

Week 6: 90 day challenge
In week six you discover a powerful 30 minute mindfulness meditation structure which is given to you to practice for a total of 90 days. This is where the true results of the course begin to form. The first 6 weeks were learning, and then the 90 day challenge is where one has to deeply apply what has been learnt, and it is in this application that magic happens.
_____________________________________________________________________
Who is this course not for?
This course is not for the lazy or the one's looking for overnight self mastery. It is not for those not willing to invest in their growth everyday. It is not for those who prefer to stay a victim and not do whatever it takes to master one's self, and therefore one's life.

_________________________________
How You Benefit


6 weeks of comprehensive knowledge and practice:
This course is broken down into 6 weeks of lessons, with weekly homework for practice and developing these life skills Lessons range from theoretical explanation of what mindfulness is, all the facets of the mindful way of life, dissolving negative thoughts, and emotions, becoming rooted in one's own personal power, alongside practical guidance on how to permanently achieve each of the above mentioned states.

Easy to follow formats:
Self mastery doesn't get easier than this with simple easy to follow video lessons, downloadable guided meditations for each week, and a comprehensive and printable workbook.

Facebook support group
All students of this course have access to sending in questions they need answers to, however to make the process even more easier, a Facebook community of the Living In Freedom students is created where I will be answering questions, offering support and appearing LIVE on the group to help students as much as I can.

Self Paced and drip content
This course is self paced, which means you can complete it on your own pace at home. Once you finish week one, then you are given access to week 2. The content is given in drips so you do not overwhelm yourself, and pace your learning.
Please note that this is a 6 weeks deep training that has yielded incredible result for hundreds of students.This course is not for those dabbling, but only for those who are serious and willing to stick to the program and follow it to the tee.
Refund is available on the clause that you take 1 year to seriously apply the material diligently and if no results are found, only then a refund is issued.
International currency users can pay using the enroll option below
Your Instructor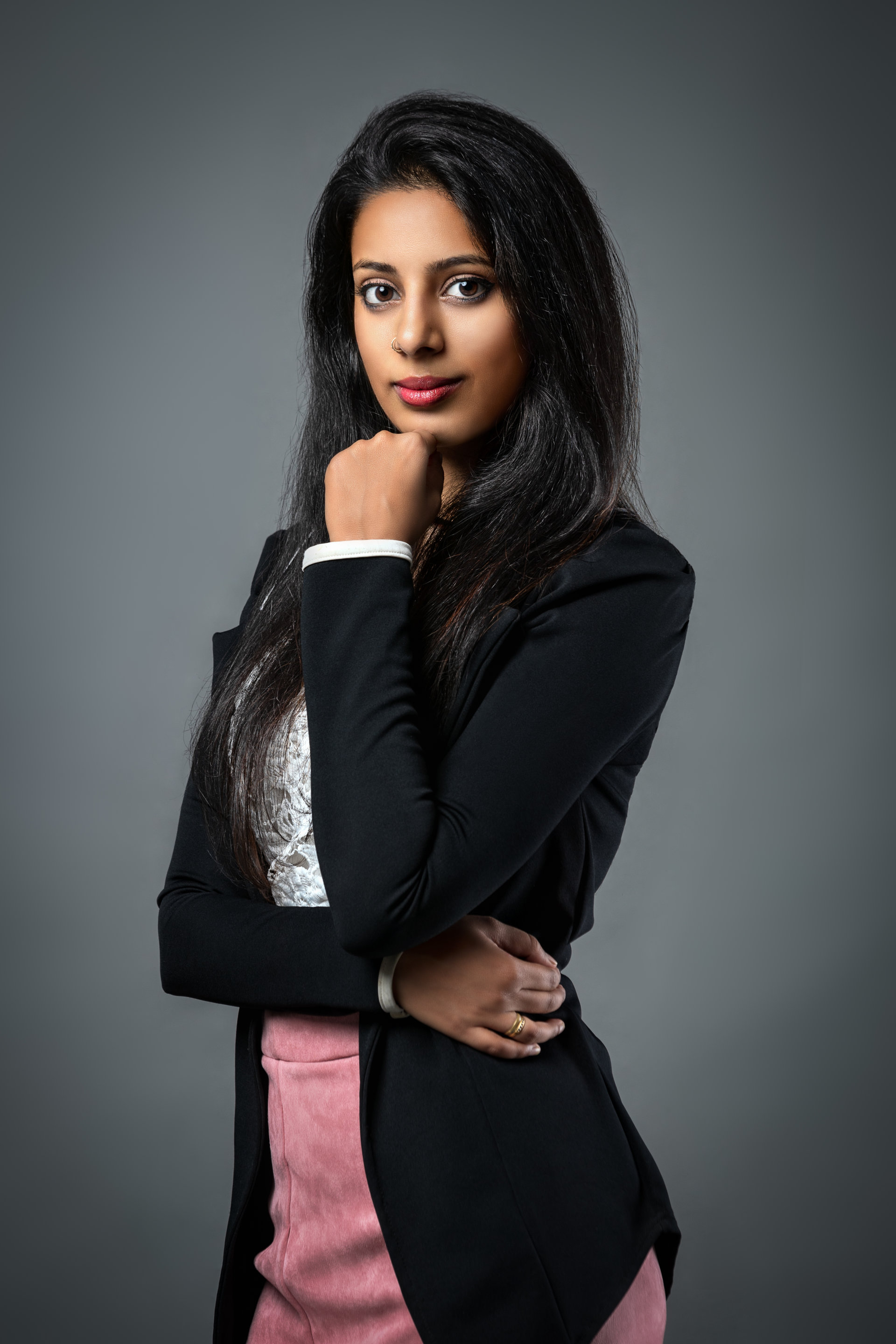 Kartika Nair is the coach and trainer behind the brand "SynchroShakti". Through her own personal journey healing out panic disorder and depression without medications, she found mindfulness and totally transformed her life and it is the same tools that empowered and freed her from suffering that she has organized into her courses, intending that it transforms the lives of new students just like it has transformed the lives of tens of hundreds of her students over the past four years. Although her passion is to teach mindfulness, she also likes to extend to those who still need it, the tools of positive psychology, success, motivation, law of attraction and the famous Hawaiin prayer of healing "Ho'oponopono".
Her youtube channel hosts a variety of topics on self development and can be accessed here:https://www.youtube.com/synchroshakti
To contact her personally, email: [email protected]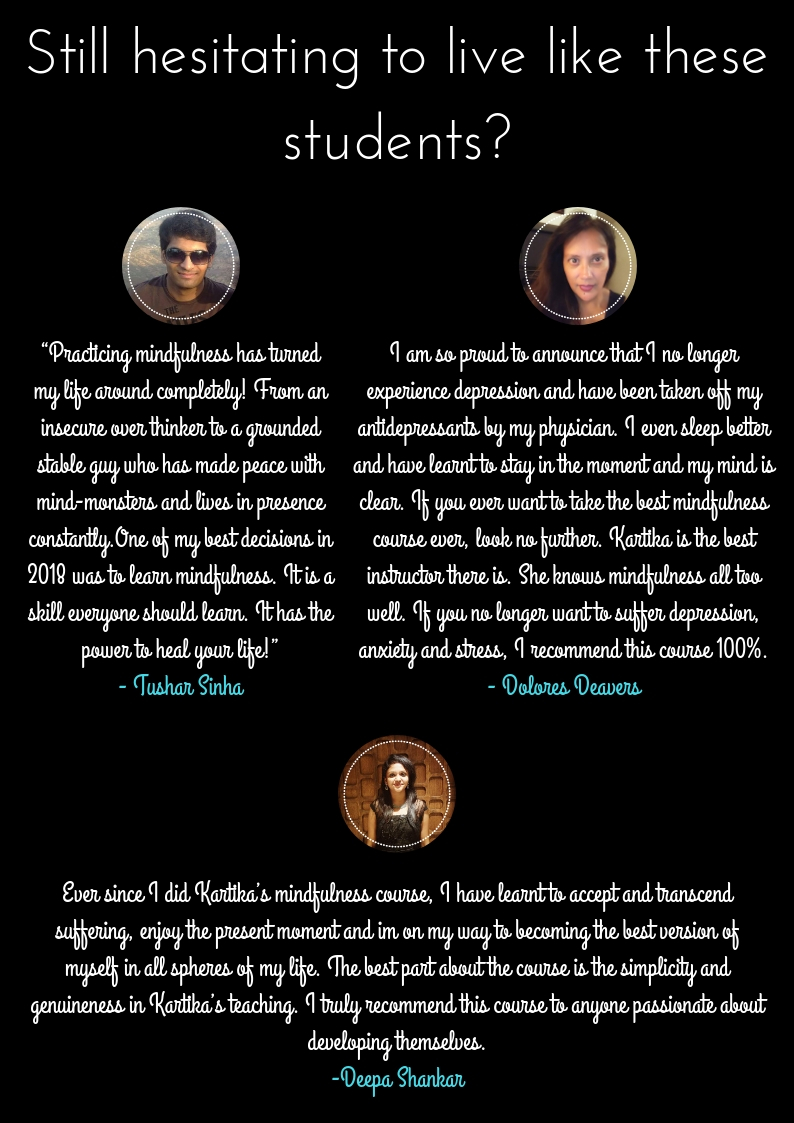 Frequently Asked Questions
How will this course benefit me?
It will give you total control over how you think, feel, behave and react to everything, thereby putting you in the seat of power, but most importantly, peace and ease.
How is this course different from other meditation/mindfulness courses
This course is inspired by works of Eckhart Tolle and teachings of self inquiry, however even though these are very difficult concepts to understand otherwise, this course makes it so easy that even children will find it easy to follow and apply. Also you get lifetime access, so yay!
How much time will I need to spend practicing what I am learning here?
You are given homework each week, and practice time varies from 5 minutes a day to maximum of 30 minutes a day, depending on the week.
How long does it take to understand and live mindfully?
The 6 weeks you spend here are enough, but to totally make it part of your being, it is paramount that you complete your 90 day challenge.
Can I download the content?
Yes! All of it!
How long can I expect the changes and results to show?
Changes are immediate, but deeper results are achieved within 90 days of practice after the 6 weeks spent learning the course.
What if I have questions during the course?
You are given the option to post questions, however you are also given the access to our Facebook private group where I will be personally doing LIVE classes, answering questions and offering support.
Is this pertaining to any religion or can I practice my own along with this?
Mindfulness has no religion so you can easily practice your religion with this :)
Can I study/practice other tools at the same time?
Yes, but I would always suggest that for the duration of these 6 weeks and the 90 day challenge following that, stick to this course/practice only so you can truly realize the benefits and results fully.
Is there a money back guarantee?
Yes! However refund can only be applied for after 1 full year of applying the practice and mastering it and if it does not give you results, only then do you qualify for a refund.
Can I really quieten my monkey mind with this course?
Yes!
Will I be able to dissolve my deepest fears with this?
Yes!
How practical is this course as opposed to theoretical?
30% theory; 70% practical
Do you need to be a monk or separate from society to live mindfully?
Nope you can be whoever you want and live mindfully same time!
Is it possible for me to change the way I think and feel about my life through this practice?
Almost immediately
My Indian Card Is not working, what do I do?
​Indian Students can pay via Paytm or bank transfer if your card is not international. Email me at:
[email protected]
to request Paytm or bank details.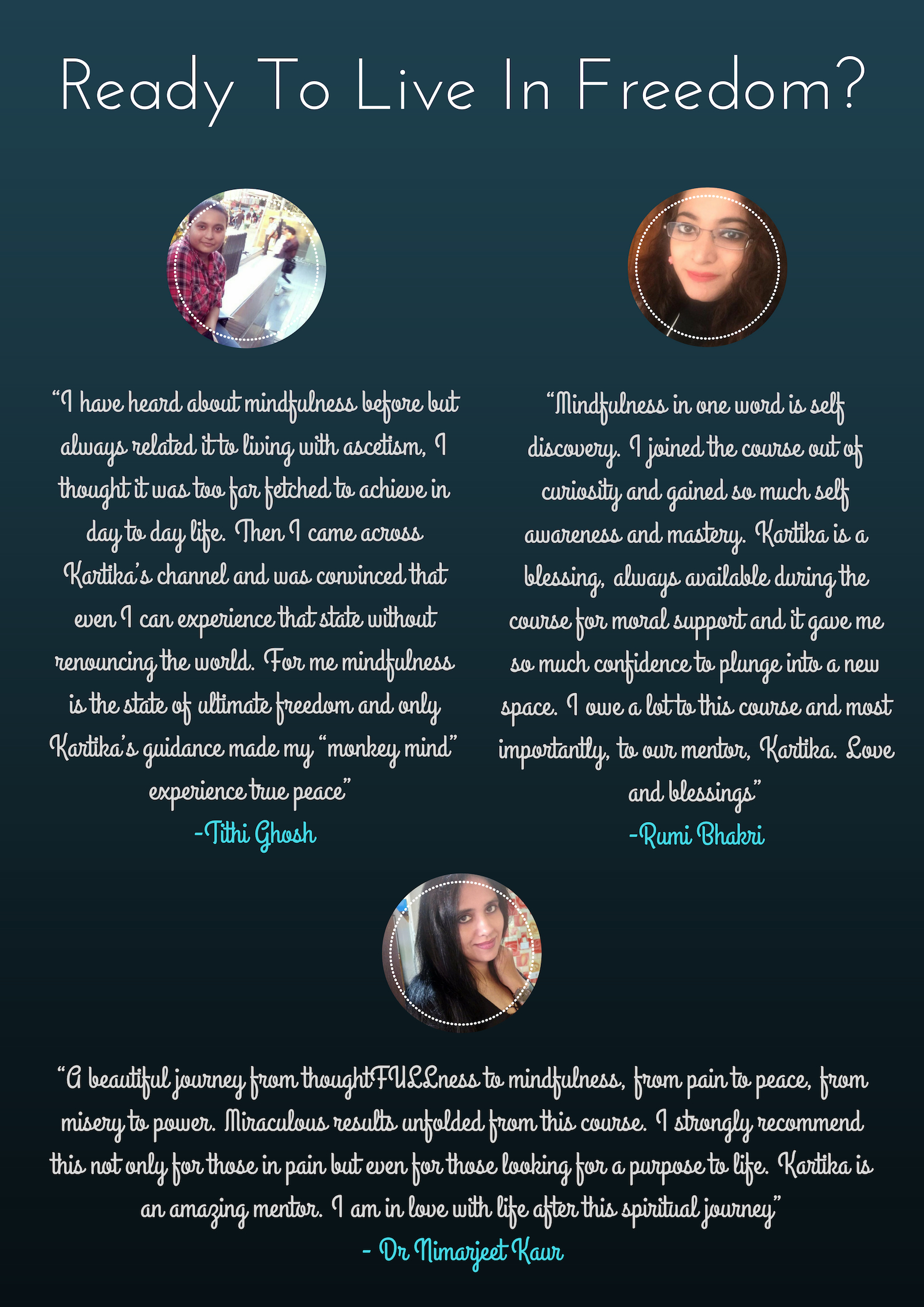 "Its easier, faster and it's the only thing that works"
International currency users can pay using the enroll option below